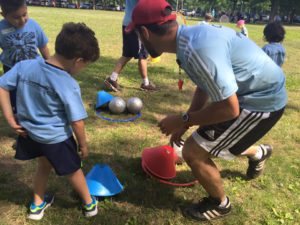 Coach Andoni's family is from the Mediterranean island of Cyprus, on which football, as soccer is known in Cyprus, is the most popular spectator and participation sport. Coach Andoni's passion for the sport was instilled in him early, as his father and older brother both played the sport. He and his brother enjoy watching international and domestic matches, especially the World Cup and European Cup matches.
Coach Andoni is passionate about traveling, writing, cooking and eating. He has played soccer throughout his life, though it was not his main sport growing up.  After the age of 10, he began to play tennis and run track. Throughout his life, the sport of soccer has been important to him. Coach Andoni plays with his fellow coaches on the PSK men's team.
Coach Andoni says, "I love teaching kids because they are so eager and excited to learn. The joy and sense of wonder they have is incredible, and it drives me to continue to learn and discover the world. Soccer is a fantastic, fun way to teach kids about life and moral values through an activity that keeps them healthy and moving. Too many kids are spending too much time indoors and in front of screens- whether it's a TV, smartphone or tablet- and I love working with a program that is re-engaging kids with the world around them and with each other- all through the sport of soccer. Soccer is the world's beautiful game, and it is beautiful to see love for the game that I love so much growing among the youth of America."
Fun fact: Coach Andoni adopted his dog while he was living in Italy, and plays soccer with him often. His name is Cappuccino Vannucci.