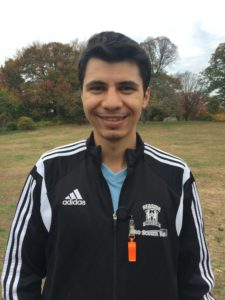 Coach Yasin's students know him as Coach "Y." He is originally from Turkey, and has been in the US for over a decade and he absolutely loves life here in the US.  He started playing soccer at 3 years of age. He went to college to become a physical education teacher, and will soon be teaching at the elementary school level.
Coach Y had some great experiences during his student teaching at elementary schools.  He saw the joy and passion of learning throughout the youth in the classroom and it impressed him so much; he soon realized that he wanted to have that be a part of his life forever.
Coach Y is a lifelong Chelsea and Real Madrid fan, but his favorite team of all is Fenerbahce S.K, which is one of a few renowned soccer teams in Turkey.  Coach Y has played semi-professional soccer for a year before he went back to college.
Coach Y says, "I am very passionate about teaching, I love teaching the little ones; if I see one of my students getting involved with what I am teaching, especially if it's soccer, it makes me the happiest person in life.  Don't tell anyone else, but my biggest goal of all is to become a big time soccer coach in the future…but before that, maybe even a professional soccer player!  shhhh, if you say it too loud it might not come true!"