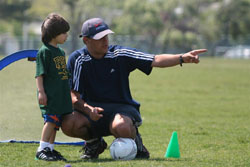 Have questions about Pro Soccer Kids? Want to know how classes work? We've got answers to some of the most frequently asked questions below.
Do you offer a trial class?
Sorry, we do not. In order to keep our class size controlled and our classes well organized we do not offer a trial class. We encourage you to join for the season, and if any time before your fourth class, you find it's not working out, we will refund you for the remaining unused classes. Please read our "Policy" page for more info.
What makes Pro Soccer Kids different from the other soccer programs?
Tom Creagh, the owner of Pro Soccer Kids has played and coached soccer in Ireland, Australia, England, and the USA. He has studied soccer coaching techniques from some the worlds best professional youth programs (like Brazil, Italy and Holland) and brings this experience to all Pro Soccer Kids coaches and classes. Our coaches are all PROFESSIONAL SOCCER COACHES. We emphasize learning while having fun, using the same drills as the professional training international youth programs. Our classes are carefully planned and organized to give your child plenty of attention in a positive environment while learning the wonderful game of soccer. We keep our class sizes small (10-14 kids, depending on age group) so that your child gets plenty of attention without feeling crowded. For more class details, click on the CLASS TYPES " Group" tab under Our Program heading on our website.
How do I sign up for a soccer class?
You may use this website to first create an account, then go to the "
find classes
" page and select your class and click "register". Or you may register by phone by calling us at 516-766-KIDS (
516-766-5437
)
What forms of payment do you accept?
We accept Visa, MasterCard, Discover, and American Express via our secure website or by phone.  You can also stop by our office 55 Front Street, Suite 7 Rockville Centre NY 11570 to make payment.
Does my child need special soccer gear or a uniform?
No, for all children in our program NO shin guards or cleats are required. In fact, for the safety of all children we encourage sneakers for age 2-4.  We provide a t-shirt and your child may wear gym shorts/pants and sneakers. We also provide all the soccer equipment (balls, cones, goal nets, etc) that will be used during the class.
Should we bring water or juice to class?
Yes. Since the kids do a lot of running around, we allow for water breaks, so please make sure your child has something to drink.
I have another child that is not in your program, can I bring him to class?
We welcome all family members to watch the class, but siblings not enrolled in Pro Soccer Kids cannot participate in the class and must stay off the playing field/gym floor for safety and liability reasons. They must be under parent or caregiver supervision for the duration of the class. Sorry, siblings must also refrain from the use of our soccer equipment. Again, this is for your child's safety.
My child is sick today and will not attend class. What do I do?
If you would like to schedule a make-up class, call our office BEFORE the class your child cannot attend to let us know he or she will miss the class.
How do I get directions to my class?
Please see the "
Locations
" page  on our website or call our office.
How will I know if my class is canceled due to weather?
We will send you an email on the day of your class. We will also post an announcement on the home page of our website (to the right of the video). If you do not have internet access, please call our office and we will let you know if your class is canceled. We usually make the determination 2-5 hours prior to your class.
I have a few friends and we'd all like to join the same class. How do we do this?
We assign each class a number so it will make it easy for you to all join the same class. You may register online and tell your friends which class number you signed up for, and ask them to register online or by phone. Class size is limited. If you have 4 or more friends, you may wish to create your own private class. Please call our office to set up a private class (5 to 10 child minimum, depending on the location).
I don't see my neighborhood on your class list, when will you be offering soccer classes here?
We serve many locations and are expanding based on requests. Please call us at 516-766-KIDS or fill out this
FORM
to let us know where you would like to have class.