Pro Soccer Kids connects you and your child with skilled, experienced soccer coaches in your area to help your child reach his or her full potential as a player. We strive to instill confidence, promote sportsmanship, develop skills, and create a lifelong focus on competitive spirit and fitness, all in a fun, and engaging environment.
What We Do
Pro Soccer Kids works to make learning soccer simple, safe, enjoyable, and fun for your child. We share our passion and excitement for the world's most popular sport with everyone in our program. Our drills are tailored to suit your child, whether they're kicking a soccer ball for the first time, or the thousandth. We focus on consistency, (day, time, coach) and diversity (drills and games) in each class experience. For more details on how we run our organization, see our policies page.
For younger kids
Creative games that not only teach basic soccer skills, but also letters, numbers, colors, listening skills and foot/eye coordination.
We tap into a child's imagination by referencing popular kids' characters or songs to help explain some of the drills.
We emphasize teamwork, treating each other with kindness, and celebrate each new task a child learns in our program with encouragement.
Class sizes are maintained at 6–12 kids for the toddlers with 2–3 coaches so that each child gets plenty of attention and can enjoy the class in his or her own way.
For older players
We emphasize techniques such as passing and receiving, movement with or without the ball, defending and attacking — both individually and as a group.
We want the kids to have fun, but feel challenged. Our coaches work very hard to make each class innovative and unique.
Scrimmage games are included in each class for groups age 4 and older (based on readiness of the unique class).
Each of our professional coaches has his or her own style and we encourage parents to see the benefit of sometimes trying a new coach.
Our Story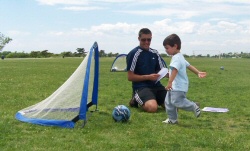 Pro Soccer Kids was launched in 2006 by Coach Tom Creagh, and his wife Deborah — the couple actually met at a restaurant during the 2002 World Cup!
Coach Tom taught soccer to players ranging from toddlers to travel teams in Manhattan. When the couple married, and moved from Manhattan to Long Beach, they saw there was no toddler soccer in the area, so Tom volunteered to coach it.
He had about 40 kids at Our Lady of Miraculous Medal in Point Lookout — the next town over from Long Beach — and word spread quickly about his abilities to teach real soccer skills to kids as young as 2.
The couple both had other jobs at the time, but after a year, Pro Soccer Kids grew so enormously it became a full time job for Tom. Deborah served as his assistant coach helping him with class, then riding her bike to catch the train into the city, working all day, getting home late, and doing it all again the next day!
In 2008 they had their first child, so Deborah closed her Manhattan office to take over administrative duties for Pro Soccer Kids. They teamed up with Deborah's brother Joe, who helped set up ProSoccerKids.com, and its data management program, allowing the couple much more time to focus on soccer instead of all the paperwork.
What began as a few classes with 40 kids has exploded to over a hundred class choices. More than 22,000 families have joined our program!  Thank you for being a part of our soccer family!