Kids Soccer Classes in Long Island, Manhattan, Queens, Brooklyn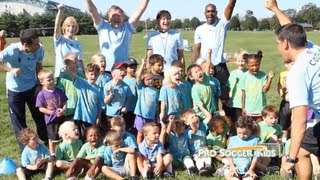 We offer Soccer classes for children age 2 to 9 during all seasons: spring, summer, fall and winter. We have both indoor and outdoor locations.  Our facilities include parks, outdoor fields, schools, indoor turf fields, gymnasiums and play centers.  We have the best professional soccer coaches, with the most experience teaching KIDS and sharpening their skills.
Unique only to our program: During our Spring and Fall seasons we offer Pro Soccer Kids Bonus Scrimmage Games, in addition to your regular weekly class we hold optional intramural games.  It's a lot of fun to see young soccer pros playing in a real game.  Players learn important teamwork and game skills.
Head over to the photos & videos page to see more examples of how we teach soccer to New York City's future Beckhams and Hamms!
We encourage families to stay and cheer for your growing soccer players; our program is not drop-off.
Keep your kids active and fit this season with Soccer!
Looking for a location more convenient to you that's not listed on the Find Classes page? Please let us know!