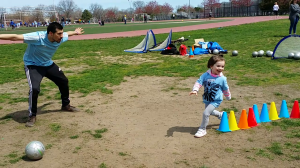 Pro Soccer Kids' coaching staff will instruct, challenge and facilitate the development of your child's skills in the game from the beginner level onward. Your child will learn the rules, strategy and sportsmanship of the game which will further enhance their enjoyment of the beautiful game of soccer.
Our program is developed and structured to suit the particulars of your child's age group and unique needs. We provide all of the equipment (age appropriate soccer balls, nets, cones, rings, ladders, a magic carpet & more!!) for your child and their classmates.  A new t-shirt will be given to your child at the start of each season.
YOUR FIRST CLASS
Plan to arrive 10–15 minutes early for the first class so you and your child can meet the other kids and parents in the class as well as our awesome coaches. This will also allow you to pick out a t-shirt (if it is your first class of the season).
Your PSK Coach will have a roster listing all of the registered children, so there is no need to bring a receipt to the class.
Coaches cannot accept payment, so please make sure you have paid PRIOR to your first class.
What to bring
Water or juice for your child for each class.
Shin guards can be worn, but are not required or necessary

Appropriate footwear such as sneakers; cleats are not necessary and can be harmful to children under the age of 5.  Most parks request that our players do NOT wear cleats.  Sandals or other shoes that easily fall off the foot are not recommended.
Other rules
No toys or food allowed on the playing surface (gym floor or soccer field)
Please, no food sharing with others in the class; many children have serious food allergies!
Non-participating siblings must remain supervised on the sideline at all times.
Adult participation is required if you registered for a "Parent and Me" class
Occasionally, for the younger kids, a child may be shy or in need of parent support for the first few classes. It is perfectly fine for you to join your child in the class to help him or her adjust.
Parent or Guardian must stay for your soccer class.  Our program is NOT a drop-off, unless your class is a designated after-school program at your school.
Inclement Weather
If your class is outdoors and it is raining, you will be advised of CLASS CANCELLATION VIA EMAIL. We will also POST AN ANNOUNCEMENT on our website homepage. We make every effort to determine class status TWO HOURS before your class starts.  When in doubt and you do not have access to the internet, please call our office at 516-766-5437. All rain days will be added on at the end of the season.
For more information, see our policies page.
Class Size
All group classes maintain a favorable coach/player ratio to provide your child with the individual attention required to maximize the benefits of each class.   Depending on the location and class dynamic, our ratios and capacities are:
For ages 2 & 3 – We add a second coach when the class size reaches 6. The normal class maximum is between 11 to 14 children. On occasion, a third coach may be added.
For ages 4 & 5 –  We add a second coach when the class size reaches 6 or 7.  The normal class maximum is 15 children. On occasion, a third coach may be added.
For ages 6 to 9 – We add a second coach when the class size reaches 8.  The normal class maximum is 16 children.
No matter what skill level your child currently possesses, he or she will have an unforgettable experience in our program!
Personal Information
Pro Soccer Kids is a web-driven, e-commerce-enabled business. We value your personal information submitted with registrations as if it were a family member. We employ strong security and encryption where possible and necessary. Read our privacy policy for more details.